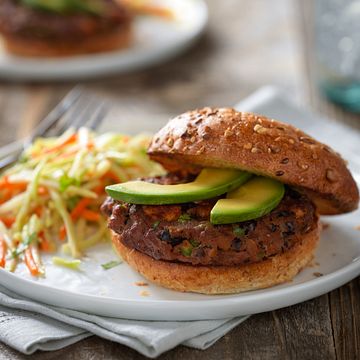 30 minutes
Makes 8 servings.
Burger

Beef and Black Bean Burgers
Be bold! Add black beans to your burger. Boost the flavor and number of servings with this top-notch grilled burger.
Ingredients
1-1/2 pounds Ground Beef (93% or leaner)
10 (2 ounce) whole-grain hamburger buns
1 (15 ounces) can no-salt added black beans, rinsed, drained
1/4 cup tomato paste
1 cup minced onion
1/4 cup finely chopped fresh cilantro leaves
1 to 2 fresh jalapeno peppers, minced
1-1/2 teaspoon ground cumin
1 teaspoon salt
1/2 teaspoon ground black pepper
1 ripe avocado, sliced
Toppings (optional):
Ranch dressing, sour cream, yogurt or salsa
Instructions
Cut two hamburger buns into 1/4-inch cubes.  Combine cubed buns, beans and tomato paste in large bowl; using a potato masher; mash to slightly chunky consistency.  Add ground beef, onion, cilantro, jalapeño pepper, cumin, salt and pepper, mixing lightly but thoroughly.  Lightly shape into eight 3/4-inch thick patties.

Cook's Tip:

Place patties on rack of broiler pan so surface of beef is 3 to 4 inches from heat.  Broil 12 to 14 minutes until instant-read thermometer inserted horizontally into center registers 160°F, turning once.

Cook's Tip:

Cooking times are for fresh or thoroughly thawed ground beef. Ground beef should be cooked to an internal temperature of 160°F. Color is not a reliable indicator of ground beef doneness.

Place burgers on bottoms of buns.  Top burgers evenly with avocado slices.  Top with dressing, sour cream, yogurt or salsa, if desired.  Close sandwiches.

Cook's Tip: This burger may be served on a bed of mixed greens topped with your favorite salsa.
Nutrition Information
386 Calories; 12g Total Fat; 3g Saturated Fat; 6g Monounsaturated Fat; 56mg Cholesterol; 605mg Sodium; 47g Total carbohydrate; 27g Protein; 5.2mg Iron; 7.4mg Niacin; 0.4mg Vitamin B6; 62.2mg Choline; 1.6mcg Vitamin B12; 4.3mg Zinc; 14.4mcg Selenium; 7.7g Fiber.