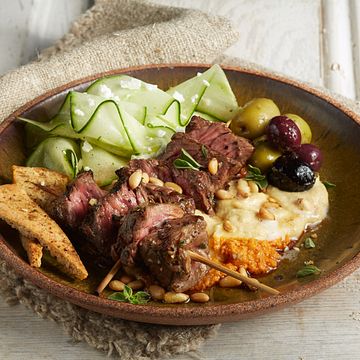 20 to 30 minutes
Makes 4 servings.
Entrée

Greek Beef Steak and Hummus Plate
Oregano, lemon peel, garlic and pepper in perfect harmony.
Ingredients
1 pound beef Top Sirloin Steaks Boneless, cut 1 inch thick
Rub:
1/4 cup chopped fresh oregano leaves or 1 tablespoon dried oregano leaves
1 tablespoon freshly grated lemon peel (about 1 lemon)
1 tablespoon plus 1 teaspoon minced garlic
1 teaspoon pepper
1 medium cucumber
3 tablespoons fresh lemon juice (about 1 lemon)
1/4 teaspoon pepper
Romesco Sauce
1 cup ready-to-serve hummus
Garnishes: pita chips, crumbled feta cheese, pine nuts, olive oil, Kalamata olives, chopped fresh oregano leaves
Instructions
Rub:
Combine Rub ingredients in small bowl; press evenly onto beef steaks.
Rub:
Place steaks on grid over medium, ash-covered coals.  Grill, covered, 10 to 14 minutes (over medium heat on preheated gas grill, covered, 12 to 17 minutes) for medium rare (145°F) to medium (160°F) doneness, turning occasionally. 
Rub:
Meanwhile, using vegetable peeler, peel cucumber into thin strips.  Toss cucumber, lemon juice and pepper in medium bowl; set aside.  Prepare Romesco Sauce. 

Romesco Sauce:  Combine 3/4 cups jarred roasted red bell pepper, 1/2 cup diced tomatoes, 1/3 cup sliced or slivered almonds or pine nuts, 1/4 cup fresh cilantro leaves,  2 teaspoons minced garlic,  2 teaspoons olive oil,  2 teaspoons fresh orange juice and 1/2 teaspoon salt in food processor bowl or blender.  Cover; pulse on and off until pureed. 
Rub:
Carve steaks into thin slices; season with salt and pepper, as desired. Place 1/4 cup hummus on each plate.  Drizzle with 2 tablespoons Romesco Sauce.  Top with cucumber strips and sliced beef.  Garnish with pita chips, feta cheese, pine nuts, olive oil, olives and oregano, if desired.
Nutrition Information
372 Calories; 18g Total Fat; 4g Saturated Fat; 9g Monounsaturated Fat; 70mg Cholesterol; 668mg Sodium; 19g Total carbohydrate; 33g Protein; 4.6mg Iron; 8.3mg Niacin; 0.8mg Vitamin B6; 109.8mg Choline; 1.5mcg Vitamin B12; 6.4mg Zinc; 33.1mcg Selenium; 7.6g Fiber.