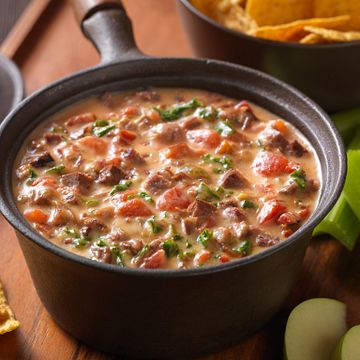 25 to 30 minutes
Makes 8 to 12 appetizer servings.
Appetizer

Beef and Kale Queso Fundido
Make the most of leftover Pot Roast with this delicious Southwestern-style recipe. Combine finely chopped Pot Roast with green chilies, cheese, kale and beer for a flavorful queso dip.
Ingredients
8 ounces cooked (leftover) beef Pot Roast, finely chopped, (about 1-1/2 cups)
1 can (10 ounces) diced tomatoes with mild green chilies, undrained
1/2 cup beer
2 cups shredded regular or reduced-fat Mexican cheese blend
1 tablespoon cornstarch
1 cup finely chopped kale leaves
Serving Suggestions:
Tortilla chips, celery sticks, carrot sticks, apple slices, pita wedges, toasted baguette slices
Instructions
Combine tomatoes and beer in medium saucepan; bring to a boil over medium heat. Meanwhile, toss cheese with cornstarch until coated.

Reduce heat to low; cook 3 to 6 minutes, adding cheese mixture, 1/2 cup at a time, and stirring constantly until cheese is melted. Do not boil.

Stir in beef and kale; continue cooking 3 to 5 minutes or until beef is heated through, stirring frequently. Pour into serving dish. Serve immediately with serving suggestions, as desired.
Nutrition Information
209 Calories; 14g Total Fat; 7g Saturated Fat; 5g Monounsaturated Fat; 59mg Cholesterol; 365mg Sodium; 5g Total carbohydrate; 16g Protein; 1.4mg Iron; 3.9mg Niacin; 0.1mg Vitamin B6; 37.1mg Choline; 1mcg Vitamin B12; 2.8mg Zinc; 12.1mcg Selenium; 1g Fiber.139 Calories; 9g Total Fat; 5g Saturated Fat; 3g Monounsaturated Fat; 40mg Cholesterol; 243mg Sodium; 3g Total carbohydrate; 11g Protein; 0.9mg Iron; 2.6mg Niacin; 0.1mg Vitamin B6; 24.8mg Choline; 0.6mcg Vitamin B12; 1.9mg Zinc; 8mcg Selenium; 1g Fiber.