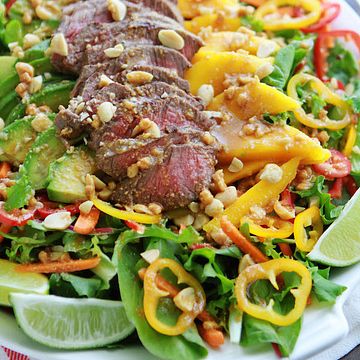 30 to 35 minutes
Makes 4 servings
Salad

Easy Sirloin Thai Salad
Developed with blogger, Lauren's Latest, this salad is a treat for all the senses. Colorful, crunchy toppings join grilled Top Sirloin Steak on a bed of greens for a taste sensation.
Ingredients
1 beef Top Sirloin Steak Boneless, cut 1 inch thick (about 1 pound)
1 (5-ounce) container prewashed fresh herbs and greens lettuce mix (about 8 cups)
1 ripe mango, sliced
1 small ripe avocado, sliced
1/2 cup shredded carrot
1/2 cup diced red and/or yellow bell pepper
1/2 teaspoon coarse sea salt
2 tablespoons dry roasted peanuts, chopped (optional)
Lime wedges
Dressing:
3 tablespoons agave nectar or honey
2 tablespoons creamy or chunky natural peanut butter
2 tablespoons hot water
1 tablespoon reduced-sodium soy sauce
1 tablespoon rice or white vinegar
1 teaspoon sesame oil
Instructions
Place beef steak on grid over medium, ash-covered coals. Grill, covered, 11 to 15 minutes (over medium heat on preheated gas grill, 13 to 16 minutes) for medium rare (145°F) to medium (160°F) doneness, turning occasionally.

Meanwhile, whisk all Dressing ingredients in medium bowl until smooth; set aside. Arrange lettuce on serving platter; arrange mango, avocado, carrot and bell pepper over lettuce.

Carve steak into slices; season with salt. Arrange beef over salad. Drizzle with dressing. Sprinkle with peanuts, if desired. Serve immediately; squeeze lime wedges over salad, as desired.
Nutrition Information
356 Calories; 14g Total Fat; 3g Saturated Fat; 6g Monounsaturated Fat; 63mg Cholesterol; 341mg Sodium; 30g Total carbohydrate; 30g Protein; 3.4mg Iron; 11mg Niacin; 0.6mg Vitamin B6; 2.9mcg Vitamin B12; 7.6mg Zinc; 26.8mcg Selenium; 4.2g Fiber.