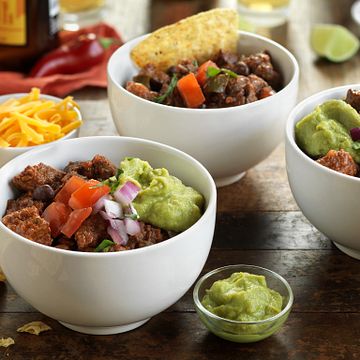 2-1/2 to 3-1/4 hours
Makes 8 servings

Hearty Steak and Bean Chili
Got a craving for chili? The name says it all. Add your choice of toppings for this recipe, perfect for game day or any night of the week.
Ingredients
3 pounds Shoulder Steaks, cut 3/4 inch thick
2 tablespoons vegetable oil
1/2 teaspoon salt
1 medium green bell pepper, chopped
1 medium onion, chopped
2-1/2 cups roasted tomato or regular salsa
1/4 cup chili powder
2 teaspoons ground cumin
2 cans (15 ounces each) black beans, rinsed, drained
Toppings:
Guacamole, chopped fresh cilantro, chopped purple onion, chopped tomato and tortilla chips (optional)
Instructions
Cut beef steaks into 3/4-inch pieces. Heat 1 tablespoon oil in stockpot over medium heat until hot. Brown beef in three batches; season with salt. Set aside.

Add remaining 1 tablespoon oil, bell pepper and onion to same stockpot. Cook and stir 6 to 8 minutes or until vegetables are tender. Return beef and accumulated juices to stockpot. Add salsa, chili powder and cumin; bring to a boil. Reduce heat; cover tightly and simmer 1-3/4 to 2-1/4 hours or until beef is fork-tender. Stir in beans; cook, uncovered, 10 to 15 minutes or until beans are heated through, stirring occasionally.

Serve chili in bowls. Garnish with Toppings, as desired.
Nutrition Information
289 Calories; 10g Total Fat; 3g Saturated Fat; 5g Monounsaturated Fat; 78mg Cholesterol; 736mg Sodium; 23g Total carbohydrate; 32g Protein; 5mg Iron; 11.2mg Niacin; 0.8mg Vitamin B6; 89.2mg Choline; 3.3mcg Vitamin B12; 8.1mg Zinc; 31.5mcg Selenium; 6.1g Fiber.