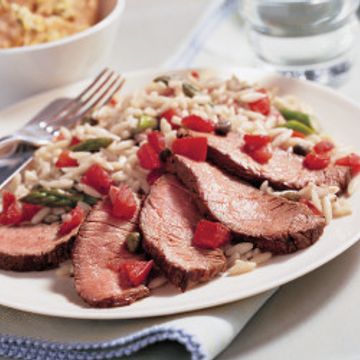 30 minutes
Makes 6 servings
Entrée

Beef Top Sirloin Steak with Asparagus & Tomato Orzo
Try this juicy top sirloin steak paired with a tomato-caper sauce served over a bed of orzo and asparagus. This Beef. It's What's For Dinner. recipe is certified by the American Heart Association®.
Ingredients
1 beef Top Sirloin Steak, Boneless, cut 1 inch thick (about 1-1/2 pounds)
1/2 teaspoon salt
1/4 teaspoon pepper
1/3 cup unsalted beef broth
1/3 cup dry red wine
1-1/2 cups chopped roma tomatoes
1/4 cup finely chopped capers
1 tablespoon minced garlic
1 cup cooked orzo pasta
1/2 pound asparagus, trimmed, cut into 1-inch pieces
Instructions
Press salt and pepper evenly onto beef steak. Heat large nonstick skillet over medium heat until hot. Place steak in skillet; cook 15 to 18 minutes for medium rare (145°F) to medium (160°F) doneness, turning occasionally. Remove from skillet; keep warm.

Add broth and wine to skillet; increase heat to medium-high. Cook and stir 1 to 2 minutes or until brown bits attached to skillet are dissolved. Add tomatoes, capers and garlic; cook and stir 6 to 7 minutes or until thickened.

Meanwhile, cook pasta according to package directions. Add asparagus during last 3 minutes of cooking time. Drain; toss with half of the tomato mixture.

Cook's Tip: Nutritional analysis of this recipe is based on pasta cooked without the addition of salt.

Carve steak crosswise into slices. Serve steak over pasta. Spoon remaining tomato mixture over steak.
Nutrition Information
308 Calories; 6g Total Fat; 2.2g Saturated Fat; 0.3g Polyunsaturated Fat; 2g Monounsaturated Fat; 0.1g Trans Fat; 70mg Cholesterol; 302mg Sodium; 617.7mg Potassium; 29g Total carbohydrate; 31.6g Protein; 3.7mg Iron; 9.9mg Niacin; 0.7mg Vitamin B6; 108.4mg Choline; 1.5mcg Vitamin B12; 5.8mg Zinc; 31.6mcg Selenium; 2.6g Fiber.