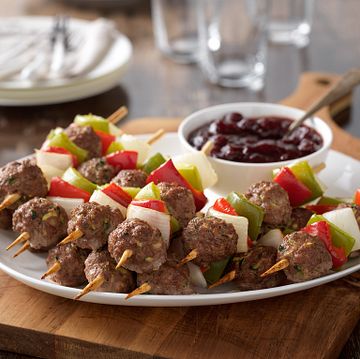 50 minutes
Makes 12 servings
Appetizer

Holiday Mini Beef Meatball Skewers with Cranberry Barbecue Sauce
These ground beef and zucchini mini meatballs are perfect for any holiday party. What could make them better? A cranberry barbecue sauce. This Beef. It's What's For Dinner. recipe is certified by the American Heart Association®.
Ingredients
1 pound Ground Beef (96% lean)
1 cup grated fresh zucchini
1 egg
1/2 teaspoon salt
1/4 teaspoon pepper
1 small onion, cut into 1-inch pieces
2 red bell peppers, trimmed and cut into 1-inch pieces
2 green bell peppers, trimmed and cut into 1-inch pieces
Cranberry Barbecue Sauce
1 can (16 ounces) whole berry cranberry sauce
3 tablespoons barbecue sauce
Instructions
Preheat oven to 400°F. Combine ground beef, zucchini, egg, salt and pepper in medium bowl, mixing lightly, but thoroughly. Shape into 24 meatballs. Alternately thread meatballs, red peppers, green peppers and onions onto each of twelve 6-inch skewers.

Bake in 400°F oven 22 to 25 minutes or until instant-read thermometer inserted into center of meatball registers 160°F.

Tip Cooking times are for fresh or thoroughly thawed ground beef. Ground beef should be cooked to an internal temperature of 160°F. Color is not a reliable indicator of ground beef doneness.

Meanwhile, combine cranberry sauce and barbecue sauce in medium saucepan; simmer 5 minutes or until flavors are blended. Drizzle sauce over skewers or serve as dipping sauce, if desired.
Nutrition Information
134 Calories; 2.1g Total Fat; 0.9g Saturated Fat; 0.2g Polyunsaturated Fat; 0.8g Monounsaturated Fat; 0g Trans Fat; 40.5mg Cholesterol; 167mg Sodium; 226mg Potassium; 20g Total carbohydrate; 9.2g Protein; 1.3mg Iron; 2mg Niacin; 0.2mg Vitamin B6; 41.8mg Choline; 0.7mcg Vitamin B12; 2.1mg Zinc; 7.8mcg Selenium; 1.4g Fiber.