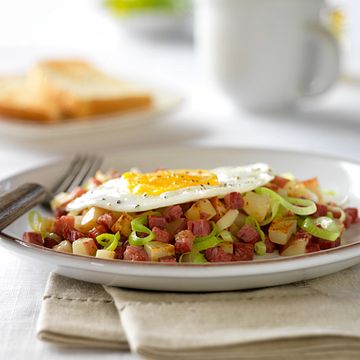 35 to 40 minutes
Makes 4 servings
Breakfast

Corned Beef Hash
Tied with the Reuben for the ultimate expression of Corned Beef. Here it's diced, skillet-cooked with cubed potatoes and thinly sliced leeks, and ideally topped with an egg.
Ingredients
12 ounces cooked Corned Beef or thickly sliced deli Corned Beef, cut into 1/4-inch pieces
1 to 2 tablespoons vegetable oil
4 cups cubed unpeeled potatoes (such as red-skinned, baking or sweet potatoes)
2 medium leeks, thinly sliced
1/2 teaspoons garlic salt
Fried or poached eggs (optional)
Instructions
Heat 1 tablespoon oil in large nonstick skillet over medium heat until hot. Stir in potatoes, leeks and garlic salt. Cover and cook 12 to 16 minutes or until potatoes and leeks are tender, stirring occasionally. Remove cover and continue to cook 3 to 5 or until potatoes begin to brown, stirring occasionally and adding remaining 1 tablespoon oil to prevent sticking, if needed.

Add Corned Beef to skillet. Continue to cook 2 to 3 minutes or until beef is heated through. Serve hash with fried or poached egg, if desired.
Nutrition Information
376 Calories; 2g Total Fat; 6g Saturated Fat; 1g Monounsaturated Fat; 83mg Cholesterol; 1121mg Sodium; 3g Total carbohydrate; 19g Protein; 3.6mg Iron; 4.5mg Niacin; 0.6mg Vitamin B6; 87.7mg Choline; 1.4mcg Vitamin B12; 4.4mg Zinc; 29.1mcg Selenium; 3.4g Fiber.248 Calories; 8g Total Fat; 2g Saturated Fat; 2g Monounsaturated Fat; 47mg Cholesterol; 1140mg Sodium; 30g Total carbohydrate; 17g Protein; 4.1mg Iron; 1.9mg Niacin; 0.4mg Vitamin B6; 28.8mg Choline; 1.4mcg Vitamin B12; 0.6mg Zinc; 1.2mcg Selenium; 3.4g Fiber.