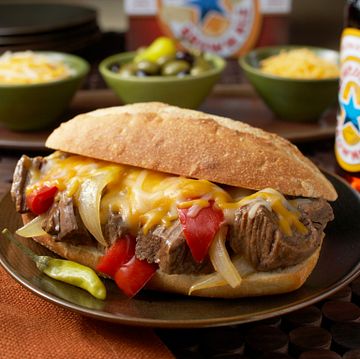 HIGH 6-1/4 to 7-1/4 hours or LOW 8-1/4 to 9-1/4 hour
Makes 8 to 10 servings
Sandwich

Sweet Onion & Pepper Beef Sandwiches with Au Jus
Top your favorite French bread with the tasty flavors of slow cooked beef, sweet onions and bell peppers in this hearty and satisfying sandwich.
Ingredients
3 to 3-1/2 pounds beef Stew Meat, cut into 1 to 1-1/2 inch pieces
2 medium sweet onions, cut into 1/2-inch wedges
2 red bell pepper, cut lengthwise into 1-inch wide strips
1 cup reduced-sodium beef broth
1/3 cup reduced-sodium soy sauce
1/2 cup no salt added tomato paste
6 cloves garlic, minced
8 to 10 French bread rolls, split, warmed
Toppings:
Reduced-fat shredded Cheddar cheese, pepperoncini, pepper rings, assorted olives
Instructions
Place onions in 5-1/2 quart slow cooker; top with beef, then pepper slices. Combine beef broth, tomato paste, soy sauce and garlic; add to slow cooker. Cover and cook on HIGH 6 to 7 hours or LOW 8 to 9 hours or until beef is fork-tender. (No stirring is necessary during cooking.) Skim fat from cooking liquid, if necessary.

Serve beef and vegetables in rolls with toppings, as desired. Serve au jus for dipping, if desired.
Nutrition Information
403 Calories; 12g Total Fat; 4g Saturated Fat; 5g Monounsaturated Fat; 100mg Cholesterol; 730mg Sodium; 33g Total carbohydrate; 41g Protein; 5.6mg Iron; 7.5mg Niacin; 0.7mg Vitamin B6; 147.7mg Choline; 3mcg Vitamin B12; 8.2mg Zinc; 26.3mcg Selenium; 3.2g Fiber.343 Calories; 10g Total Fat; 3g Saturated Fat; 4g Monounsaturated Fat; 80mg Cholesterol; 628mg Sodium; 30g Total carbohydrate; 34g Protein; 4.7mg Iron; 6.3mg Niacin; 0.5mg Vitamin B6; 118.2mg Choline; 2.4mcg Vitamin B12; 6.5mg Zinc; 21mcg Selenium; 2.7g Fiber.