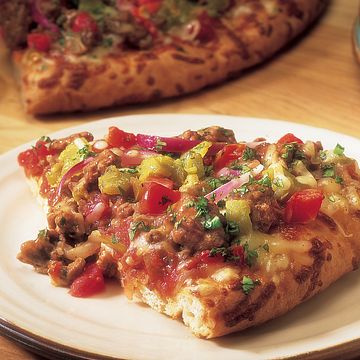 30 minutes
Makes 4 servings
Entrée

Southwest Beef & Chile Pizza
Classic southwest flavors like salsa, green chiles and cilantro join cooked Ground Beef on top of a thick pizza crust. Serve when the cheese is hot and bubbly!
Ingredients
1 pound Ground Beef
1/4 teaspoon salt
1 package (16 ounces) thick prebaked pizza crust (12-inch diameter)
1 cup prepared thick-and-chunky salsa
2 cups shredded Mexican cheese blend or Monterey Jack cheese, divided
1 can (4 ounces) diced green chiles, drained well
2 small Roma tomatoes, seeded, coarsely chopped
1/3 cup thinly sliced red onion
2 tablespoons chopped fresh cilantro leaves
Instructions
Heat oven to 450°F.

Heat large nonstick skillet over medium heat until hot. Add Ground Beef; cook 8 to 10 minutes, breaking into 3/4-inch crumbles and stirring occasionally. Remove from skillet with slotted spoon; season with salt.

Cook's Tip: Cooking times are for fresh or thoroughly thawed Ground Beef. Ground beef should be cooked to an internal temperature of 160°F. Color is not a reliable indicator of ground beef doneness.

Place pizza crust on ungreased pizza pan or large baking sheet. Spread salsa evenly on crust; sprinkle with 1/2 of cheese. Top evenly with beef, chiles, tomatoes and onion. Sprinkle with remaining cheese.

Bake in 450°F oven 11 to 13 minutes or until topping is hot and cheese is bubbly. Sprinkle with cilantro; cut into 8 wedges.
Nutrition Information
678 Calories; 28.4g Total Fat; 15g Saturated Fat; 0.8g Polyunsaturated Fat; 7.7g Monounsaturated Fat; 0.2g Trans Fat; 137mg Cholesterol; 1358mg Sodium; 512.4mg Potassium; 56g Total carbohydrate; 48g Protein; 5.9mg Iron; 6.5mg Niacin; 0.5mg Vitamin B6; 105.6mg Choline; 3.5mcg Vitamin B12; 8.2mg Zinc; 29.3mcg Selenium; 3g Fiber.