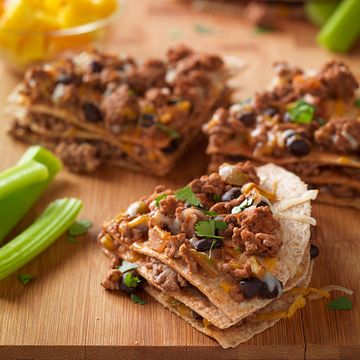 25 to 30 minutes
Makes 4 servings
Kids' Menu

Beef and Cheese Tortilla Towers
Piled high and chock-full of nutrients, this tower of beef and cheesy tortillas is sure to please everyone in the family.
Ingredients
1 pound Ground Beef (95% lean)
1 jar (16 ounces) thick-and-chunky salsa
3/4 cup canned black beans, rinsed, drained
1/2 teaspoon ground cumin
7 small whole wheat tortillas (6 to 7-inch diameter)
1 cup shredded reduced-fat Mexican cheese blend
Chopped fresh cilantro (optional)
Cantaloupe-Mango Salsa:
1 cup coarsely chopped ripe mango
1 cup coarsely chopped cantaloupe
1/8 to 1/4 teaspoon crushed red pepper
Instructions
Heat large nonstick skillet over medium heat until hot. Add Ground Beef; cook 8 to 10 minutes, breaking into 3/4-inch crumbles and stirring occasionally. Remove drippings. Stir in salsa, beans and cumin. Cook 3 to 5 minutes or until heated through and most of liquid has evaporated. Remove from heat.

Cook's Tip: Cooking times are for fresh or thoroughly thawed Ground Beef. Ground Beef should be cooked to an internal temperature of 160ºF. Color is not a reliable indicator of Ground Beef doneness.

Heat oven to 350°F. Spray baking sheet with nonstick cooking spray. Place 2 tortillas in single layer on pan. Spoon generous 1/2 cup beef mixture on each tortilla; sprinkle each with 2 tablespoons cheese. Repeat layering of tortillas, beef mixture and cheese twice. Sprinkle remaining cheese over tops of tortilla towers. Cut 8 small stars from remaining tortilla with cookie cutter; arrange on towers. Bake in 350°F oven 12 to 15 minutes or until heated through and cheese melts.

Meanwhile, combine salsa ingredients in small bowl. Set aside.

Cut each tortilla tower into 4 wedges. Garnish with cilantro, if desired. Serve with fruit salsa.
Nutrition Information
478 Calories; 13g Total Fat; 7g Saturated Fat; 3g Monounsaturated Fat; 91mg Cholesterol; 1725mg Sodium; 65g Total carbohydrate; 39g Protein; 4.8mg Iron; 8.2mg Niacin; 0.6mg Vitamin B6; 2.3mcg Vitamin B12; 7mg Zinc; 18.4mcg Selenium; 7.1g Fiber.