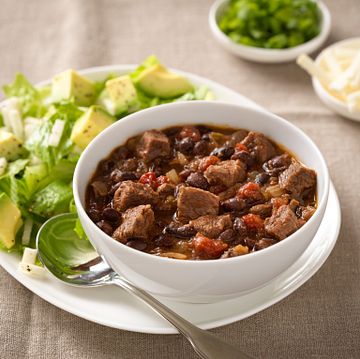 HIGH 6-1/2 hours or LOW 9-1/2 hours
Makes 6 to 8 servings
Soup

Chilly Day Beef Chili
This super-simple hearty chili will warm you up combining beef Stew Meat, black beans, onions, salsa and Tex-Mex spices.
Ingredients
2-1/2 pounds boneless beef Chuck or Round, cut into 1/2-inch pieces
2 cans (15-1/2 ounces each) black beans, rinsed, drained
1 can (15-1/2 ounces) diced tomatoes (chili or zest-style)
1 medium onion, chopped
2 teaspoons chili powder
1 teaspoon salt
1 teaspoon ground cumin
1/2 teaspoon pepper
1 cup prepared thick-and-chunky salsa
Toppings:
Shredded Cheddar cheese, diced red onion, diced green onion, diced avocado and dairy sour cream
Instructions
Combine all ingredients except salsa and toppings in 4-1/2 to 5-1/2-quart slow cooker; mix well. Cover and cook on HIGH 5-1/2 to 6 hours or on LOW 8 to 9 hours or until beef is tender. (No stirring is necessary during cooking.)

Just before serving, stir in salsa; cook 2 to 3 minutes or until heated through. Serve with toppings, as desired.
Nutrition Information
404 Calories; 12g Total Fat; 91mg Cholesterol; 710mg Sodium; 32g Total carbohydrate; 42g Protein; 6.2mg Iron; 6mg Niacin; 0.6mg Vitamin B6; 2.8mcg Vitamin B12; 8.7mg Zinc.