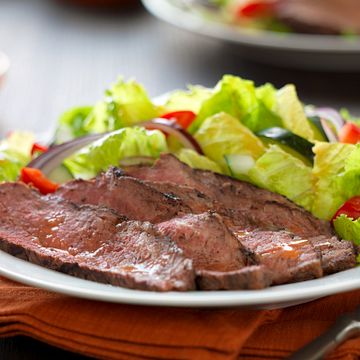 1-1/4 hours
Makes 8 servings
Salad

Caribbean Jerk Tri-Tip Over Basil Lime Salad
Bring a taste of the islands to your tabletop. Nutrient-rich Tri-Tip Roast gets a bright, spicy marinade, then it's grilled and served with a flavor-packed veggie salad.
Ingredients
1 beef Tri-Tip Roast (2 pounds)
Marinade:
6 to 7 green onions, white and green parts cut into 1-inch pieces
3 tablespoons fresh lime juice
3 tablespoons balsamic vinegar
2 tablespoons ground allspice
2 tablespoons Asian hot chili sauce or Sriracha sauce
2 tablespoons soy sauce
1 tablespoon grated fresh ginger
1 tablespoon vegetable oil
1 teaspoon kosher or table salt
1/2 teaspoon black pepper
1/2 teaspoon ground cinnamon
1/8 teaspoon ground nutmeg
Dressing:
2 tablespoons light mayonnaise
1/4 cup sugar
1/4 cup fresh lime juice
2 tablespoons water
2 teaspoons grated fresh ginger
2 teaspoons Asian hot chili sauce or Sriracha sauce
2 teaspoons anchovy paste (optional)
Salad:
1 package (10 ounces) romaine lettuce
1 medium cucumber, cut lengthwise in half, seeded, then cut crosswise into 1/4-inch thick slices
2 medium red bell peppers, cut into 1/4-inch strips
1 medium red onion, cut into thin wedges
1 cup loosely packed fresh basil, chopped
1/2 cup loosely packed fresh mint, chopped
1/8 teaspoon kosher or table salt
1/8 teaspoon black pepper
Instructions
To prepare marinade, place green onions in food processor container. Cover; process 10 seconds or until chopped. Add remaining marinade ingredients. Cover; process 30 seconds or until smooth. Place beef roast and marinade in food-safe plastic bag; turn roast to coat. Close bag securely and marinate in refrigerator 30 minutes or as long as 2 hours.

Meanwhile prepare dressing. Place mayonnaise in small bowl; gradually whisk in remaining dressing ingredients until blended. Cover and refrigerate.

Combine salad ingredients in large bowl. Cover and refrigerate.

Remove roast from marinade; discard marinade. Place roast on grid over medium, ash-covered coals. Grill, covered, 25 to 35 minutes for medium rare to medium doneness, turning occasionally. Remove roast when instant-read thermometer, inserted into center of thickest part registers 140°F for medium rare; 155°F for medium. Let stand 10 minutes. (Temperature will continue to rise about 5°F to reach 145°F for medium rare; 160°F for medium.)

Add dressing to salad; toss lightly. Carve roast across the grain into thin slices. Serve with salad.

Recipe as seen in The Healthy Beef Cookbook, published by Houghton Mifflin Harcourt
Nutrition Information
267 Calories; 9g Total Fat; 3g Saturated Fat; 4g Monounsaturated Fat; 60mg Cholesterol; 505mg Sodium; 24g Total carbohydrate; 25g Protein; 3.7mg Iron; 7.1mg Niacin; 0.7mg Vitamin B6; 1.3mcg Vitamin B12; 4.6mg Zinc; 26.8mcg Selenium; 3.6g Fiber.