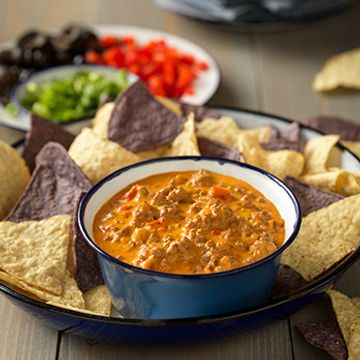 25 minutes
Makes 12 servings
Appetizer

Nacho Beef Dip
Ground Beef, salsa and cheese dip meet in the skillet for a family favorite recipe. Try this dip with tortilla chips or veggie strips.
Ingredients
1 pound Ground Beef (93% lean or leaner)
1 jar (15 to 16 ounces) cheese dip with salsa (salsa con queso) or other cheese dip
1/2 cup thick-and-chunky mild or medium salsa
Toppings:
Blue, yellow and/or white corn tortilla chips (optional)
Diced red bell pepper, thinly sliced green onions, sliced ripe olives (optional)
Instructions
Heat nonstick skillet over medium heat until hot. Add Ground Beef; cook 8 to 10 minutes, breaking into 3/4-inch crumbles and stirring occasionally. Add cheese dip and salsa; cook and stir about 3 minutes or until mixture is heated through.

Cook's Tip: Cooking times are for fresh or thoroughly thawed ground beef. Ground beef should be cooked to an internal temperature of 160°F. Color is not a reliable indicator of ground beef doneness.

Pour beef mixture into shallow serving dish. Serve with tortilla chips for dipping. Garnish with toppings, if desired.
Nutrition Information
112 Calories; 6g Total Fat; 2g Saturated Fat; 1.4g Polyunsaturated Fat; 2.1g Monounsaturated Fat; 0g Trans Fat; 31mg Cholesterol; 363mg Sodium; 161mg Potassium; 5g Total carbohydrate; 10g Protein; 1mg Iron; 2.1mg Niacin; 0.1mg Vitamin B6; 34.1mg Choline; 1mcg Vitamin B12; 2.3mg Zinc; 8.1mcg Selenium; 0.3g Fiber.