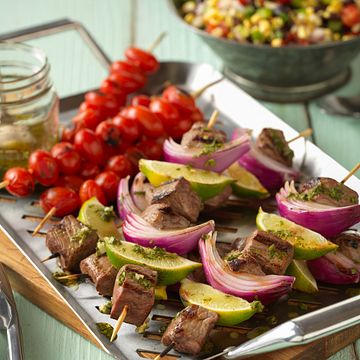 40 minutes
Makes 4 servings
Entrée

Mojo Beef Kabobs
Cubes of steaks are threaded on skewers with lime and onion then grilled to perfection. A sauce of citrus, herbs and spices provides the finishing touch.
Ingredients
1 pound beef Top Sirloin Steak Boneless, cut 1 inch thick
1 teaspoon coarse grind black pepper
1 large lime, cut into 8 wedges
1 small red onion, cut into 8 thin wedges
1 container grape or cherry tomatoes (about 10 ounces)
Mojo Sauce:
1/4 cup fresh orange juice
1/4 cup fresh lime juice
3 tablespoons finely chopped fresh oregano
3 tablespoons olive oil
2 tablespoons finely chopped fresh parsley
1 teaspoon ground cumin
1 teaspoon minced garlic
3/4 teaspoon salt
Instructions
Whisk Mojo Sauce ingredients in small bowl. Set aside.

Cut beef steak into 1-1/4 inch pieces; season with pepper.

Alternately thread beef with lime and onion wedges evenly onto four 12-inch metal skewers. Thread tomatoes evenly onto four 12-inch metal skewers.

Place kabobs on grid over medium, ash-covered coals. Grill tomato kabobs, covered, about 2 to 4 minutes or until slightly softened, turning occasionally. Grill beef kabobs, covered, 8 to 10 minutes (over medium heat on preheated gas grill 9 to 11 minutes) for medium rare (145°F) to medium (160°F) doneness, turning once.

Serve kabobs drizzled with sauce.

Recipe as seen in The Healthy Beef Cookbook, published by Houghton Mifflin Harcourt.
Nutrition Information
285 Calories; 15g Total Fat; 3g Saturated Fat; 1g Monounsaturated Fat; 5mg Cholesterol; 5mg Sodium; 1g Total carbohydrate; 27g Protein; 2.6mg Iron; 8.2mg Niacin; 0.6mg Vitamin B6; 1.4mcg Vitamin B12; 5.1mg Zinc; 31.9mcg Selenium; 1.8g Fiber.