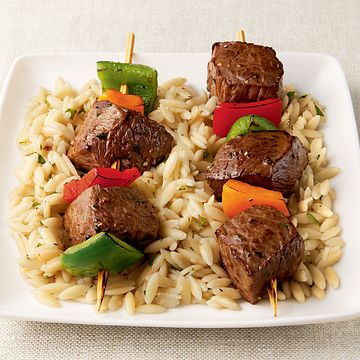 45 minutes
Makes 4 servings
Entrée

Sizzling Sirloin Kabobs on a Bed of Orzo
Versatile Top Sirloin Steak is cubed for kabobs made with colorful bell peppers. Big flavor comes from basil and Italian dressing.
Ingredients
1 beef Top Sirloin Steak Boneless, cut 1 inch thick (1 pound)
2 green, red and/or yellow bell peppers, cut into 1 inch pieces
1 tablespoon chopped fresh basil leaves or 1 teaspoon dried basil
1 tablespoon prepared Italian dressing
2 teaspoons minced garlic
Salt and pepper
Orzo:
1 cup uncooked orzo pasta, cooked according to package directions
2 to 3 tablespoons chopped fresh basil or parsley leaves
2 tablespoons shredded Parmesan cheese
2 teaspoons olive oil
Instructions
Soak eight 8-inch bamboo skewers in water 10 minutes; drain.

Cut beef Top Sirloin Steak into 1-1/4-inch pieces. Toss beef and bell peppers with 1 tablespoon basil, dressing and garlic in large bowl. Alternately thread beef and peppers onto skewers.

Toss Orzo ingredients in medium bowl; keep warm.

Place kabobs on grid over medium, ash-covered coals. Grill, covered, about 11 to 15 minutes (over medium heat on preheated gas grill, 13 to 16 minutes) for medium rare (145°F) to medium (160°F) doneness, turning occasionally. Season with salt and pepper, as desired. Serve with Orzo.
Nutrition Information
380 Calories; 10g Total Fat; 3g Saturated Fat; 4g Monounsaturated Fat; 51mg Cholesterol; 163mg Sodium; 38g Total carbohydrate; 34g Protein; 4.1mg Iron; 10.5mg Niacin; 0.8mg Vitamin B6; 105.1mg Choline; 1.5mcg Vitamin B12; 5.8mg Zinc; 31.4mcg Selenium; 2.9g Fiber.